This page, Tere Tere no Mi, is currently under construction. Please bear with the changes made by the author.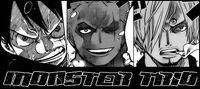 This article, Tere Tere no Mi, is the sole property of Subrosian. Any edits in this page without his permission will suffer the wrath of the Monster Trio. You have been warned.
The Tere Tere no Mi is a Paramecia-type fruit that allows the user to teleport themselves and others to nearly any location based on their knowledge of said location. It was eaten by Kotoki, a member of Cipher Pol Zero. This ability makes the user a Teleport Human (瞬間移動人間 Shunkan Idō Ningen).
Tere Tere no Mi
Statistics
Japanese Name:
テレテレの実
English Name:
Warp Warp Fruit
Meaning:
Teleport
Power:
Allows the user to teleport themselves and others to nearly any location
Type:
Paramecia
Eaten by:
Kotoki
Created by:
Subrosian
Appearance
Edit
The Tere Tere no Mi looks like a small green cherry with swirls on it.
Strengths
Edit
The main strength of the fruit is that it allows Kotoki to warp herself and another person to whatever location that she or whomever is with her has visited. They need only think about the location and her Devil Fruit will bring them there nearly instantaneously.
She can use the fruit in battle to warp short distances in order to avoid attacks, but she still needs to concentrate long enough to do it.
Weaknesses
Edit
If Kotoki has never been to the location, she cannot teleport there, but it can be easily rectified if she takes a person along with her that has been there, as she can draw from their memories to arrive safely at the location. She also has to focus in order to warp somewhere, so if she is under pressure or distracted, it won't work properly. Other than that, the standard Devil Fruit weakness applies.
Kotoki uses the fruit to teleport to and from locations instantly and utilizes it in battle to warp away from and out of the way of attacks.
The Tere Tere no Mi devil fruit, and this article was created by Subrosian.
Zoan

Amphibians

:
Ryo Ryo no Mi, Model: Salamander

Ancient Zoan

:
Inu Inu no Mi, Model: Dire Wolf

Arthropods

:
Kumo Kumo no Mi, Model: Scorpion

Birds

:
Kamo Kamo no Mi, Model: Platypus  •  Tori Tori no Mi, Model: Bald Eagle  •  Tori Tori no Mi, Model: Great Horned Owl  •  Tori Tori no Mi, Model: Hawk  •  Tori Tori no Mi, Model: Penguin  •  Tori Tori no Mi, Model: Pigeon  •  Tori Tori no Mi, Model: Raven

Insect Zoan

:
Mushi Mushi no Mi, Model: Butterfly  •  Mushi Mushi no Mi, Model: Centipede  •  Mushi Mushi no Mi, Model: Praying Mantis

Mammals

:
Garou Garou no Mi  •  Gesshi Gesshi no Mi, Model: Squirrel  •  Gesshi Gesshi no Mi, Model: Rat  •  Hito Hito no Mi, Model: Ghost  •  Hito Hito no Mi, Model: Neanderthal  •  Itachi Itachi no Mi, Model: Skunk  •  Kuma Kuma no Mi, Model: Grizzly Bear  •  Kuma Kuma no Mi, Model: Panda  •  Mori Mori no Mi, Model: Silver Haired Bat  •  Mori Mori no Mi, Model: Vampire Bat  •  Neko Neko no Mi, Model: Black Panther  •  Neko Neko no Mi, Model: Cougar  •  Neko Neko no Mi, Model: Housecat  •  Neko Neko no Mi, Model: Lion  •  Neko Neko no Mi, Model: Lion - World Reversion  •  Neko Neko no Mi, Model: Snow Leopard  •  Neko Neko no Mi, Model: Tiger  •  Uma Uma no Mi, Model: Rhinoceros  •  Usagi Usagi no Mi, Model: Rabbit  •  Ushi Ushi no Mi, Model: Bull  •  Ushi Ushi no Mi, Model: Cow  •  Ushi Ushi no Mi, Model: Minotaur  •  Yagi Yagi no Mi, Model: Deer  •  Yuitai Yuitai no Mi, Model: Red Kangaroo

Mythical Zoan

:
Enma Enma no Mi  •  Feri Feri no Mi  •  Inu Inu no Mi, Model: Hellhound  •  Inu Inu no Mi, Model: Nine-Tailed Fox  •  Ga-go Ga-go no Mi, Model: Chimera  •  Neko Neko no Mi, Model: Manticore  •  Ōkami Ōkami no Mi, Model: Raijū  •  Ryu Ryu no Mi  •  Ryu Ryu no Mi, Model: Steel Dragon  •  Tatsu Tatsu no Mi  •  Tori Tori no Mi, Model: Thunderbird  •  Ryu Ryu no Mi, Model: Ice Dragon

Plants

:
Koha Koha no Mi, Model: Venus Flytrap

Reptiles

:
Hebi Hebi no Mi, Model: Indian Cobra  •  Toka Toka no Mi, Model: Chameleon  •  Toka Toka no Mi, Model: Komodo Dragon  •  Wani Wani no Mi, Model: Gharial