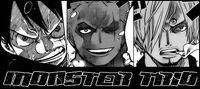 This article, Ama Ama no Mi, is the sole property of Subrosian. Any edits in this page without his permission will suffer the wrath of the Monster Trio. You have been warned.
The Ama Ama no Mi is a Logia-type Devil Fruit that grants the user the ability to transform into and control solar energy.
Ama Ama no Mi
Statistics
Japanese Name:
天天の実
English Name:
Sun Sun Fruit
Meaning:
Sun
Power:
Grants the user the ability to transform into and manipulate solar energy
Type:
Logia
Eaten by:
Algus
Created by:
Subrosian
Strengths
The main strength of the Ama Ama no Mi, like most Logia-type Devil Fruits is the intangibility. Algus can transform himself into a collection of solar energy much like the surface of the sun that is immune to physical attacks, causing all attacks on them to simply pass through. However, due to the intense heat they give off, a physical attack is nearly impossible to begin with due to the risk of the enemy being burnt to cinder.
This Fruit can negate Akainu's magma powers (because the sun is hotter than magma), just like the Admiral negated Ace's intangibility.
Weaknesses
The fruit is incredibly destructive and is prone to wanton devastation so Algus has to focus quite intensely on not letting the fruit go out of control and destroy everything around him.
Aside from that, it suffers from standard Devil Fruit weaknesses.
Usage
Algus can transform his body into collections of solar energy and use it to incinerate anything within his path.
Attacks
Supernova: A very destructive and volatile attack where Algus literally explodes, obliterating everything around him. This attack is dangerous because it will indiscriminately destroy anything in the explosion.
Red Dwarf: One of Algus' less deadly attacks, although it still produces a heat of well over 6,000°, Red Dwarf is an orb of solar energy that seeks out and incinerates a target.
Solar Flare: A basic technique used by Algus where he simply surrounds himself in solar energy to blind his opponent.
Sunspot: Algus grabs his opponent and heats up the spot where they grabbed, usually resorting to cooler temperatures so as not to kill but only to seriously injure. However, the heat is still quite intense and it can cause permanent nerve and tissue damage.
Dark Star: Algus' signature technique and one of his most dangerous, even to himself. The Dark Star creates an impenetrable sphere around him that traps anything inside of it where a combination of heat, friction and pressure will literally compress and deconstruct everything into atoms. This is a sure-kill technique for Algus but it takes a toll on his body as well and he can only use it in extreme situations.
Trivia
The Ama Ama no Mi Devil Fruit, and this article was created by Subrosian.
Zoan

Amphibians

:
Ryo Ryo no Mi, Model: Salamander

Ancient Zoan

:
Inu Inu no Mi, Model: Dire Wolf

Arthropods

:
Kumo Kumo no Mi, Model: Scorpion

Birds

:
Kamo Kamo no Mi, Model: Platypus  •  Tori Tori no Mi, Model: Bald Eagle  •  Tori Tori no Mi, Model: Great Horned Owl  •  Tori Tori no Mi, Model: Hawk  •  Tori Tori no Mi, Model: Penguin  •  Tori Tori no Mi, Model: Pigeon  •  Tori Tori no Mi, Model: Raven

Insect Zoan

:
Mushi Mushi no Mi, Model: Butterfly  •  Mushi Mushi no Mi, Model: Centipede  •  Mushi Mushi no Mi, Model: Praying Mantis

Mammals

:
Garou Garou no Mi  •  Gesshi Gesshi no Mi, Model: Squirrel  •  Gesshi Gesshi no Mi, Model: Rat  •  Hito Hito no Mi, Model: Ghost  •  Hito Hito no Mi, Model: Neanderthal  •  Itachi Itachi no Mi, Model: Skunk  •  Kuma Kuma no Mi, Model: Grizzly Bear  •  Kuma Kuma no Mi, Model: Panda  •  Mori Mori no Mi, Model: Silver Haired Bat  •  Mori Mori no Mi, Model: Vampire Bat  •  Neko Neko no Mi, Model: Black Panther  •  Neko Neko no Mi, Model: Cougar  •  Neko Neko no Mi, Model: Housecat  •  Neko Neko no Mi, Model: Lion  •  Neko Neko no Mi, Model: Lion - World Reversion  •  Neko Neko no Mi, Model: Snow Leopard  •  Neko Neko no Mi, Model: Tiger  •  Uma Uma no Mi, Model: Rhinoceros  •  Usagi Usagi no Mi, Model: Rabbit  •  Ushi Ushi no Mi, Model: Bull  •  Ushi Ushi no Mi, Model: Cow  •  Ushi Ushi no Mi, Model: Minotaur  •  Yagi Yagi no Mi, Model: Deer  •  Yuitai Yuitai no Mi, Model: Red Kangaroo

Mythical Zoan

:
Enma Enma no Mi  •  Feri Feri no Mi  •  Inu Inu no Mi, Model: Hellhound  •  Inu Inu no Mi, Model: Nine-Tailed Fox  •  Ga-go Ga-go no Mi, Model: Chimera  •  Neko Neko no Mi, Model: Manticore  •  Ōkami Ōkami no Mi, Model: Raijū  •  Ryu Ryu no Mi  •  Ryu Ryu no Mi, Model: Steel Dragon  •  Tatsu Tatsu no Mi  •  Tori Tori no Mi, Model: Thunderbird  •  Ryu Ryu no Mi, Model: Ice Dragon

Plants

:
Koha Koha no Mi, Model: Venus Flytrap

Reptiles

:
Hebi Hebi no Mi, Model: Indian Cobra  •  Toka Toka no Mi, Model: Chameleon  •  Toka Toka no Mi, Model: Komodo Dragon  •  Wani Wani no Mi, Model: Gharial